How often do you print your messages from your Outlook e-mail client ? You certainly know, that Microsoft Office Outlook provides opportunities to print selected message, or several ones, and even attached files – but limitations are critical: first of all, attachments can be printed to the default printer only; and though you can select printer for your messages, merely manually selected mails will be sent to your printer. If you need to print messages received within specific dates, Outlook regular printing option is not enough for that.
You will first have to go to Outlook Search Folders, configure settings for filtering your messages by dates… That takes too much time before you are finally ready to start printing.
Our Print Tools add-in offers you several printing modes: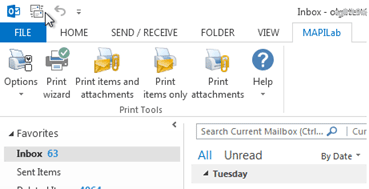 Print Items Only
Only messages will be printed by this option – you can find that in the ribbon, in the Print Tools toolbar, or also in the context menu: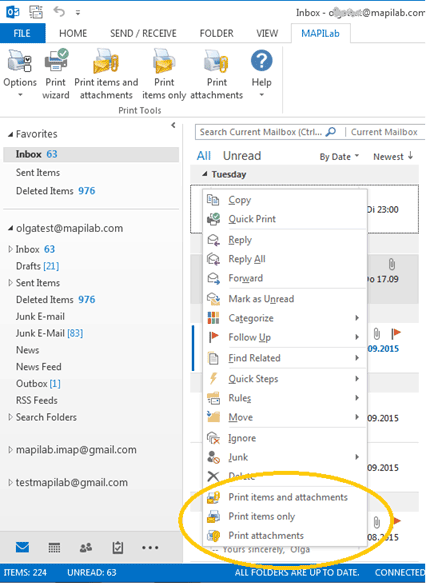 Print Attachments
This button will help you to print attachments from your selected messages: you can configure filters by file types in Print Tools Options. So, the program can either print all your attachments from selected messages (if no filters are set), or skip specific file types based on your exclusion list, or print only those files which are added to the list for printing.
Print Items and Attachments
It prints both messages and attachments – and filtering for file types can be configured here as well.
For all these options, you can select printer for messages and for attachments in Print Tools general settings: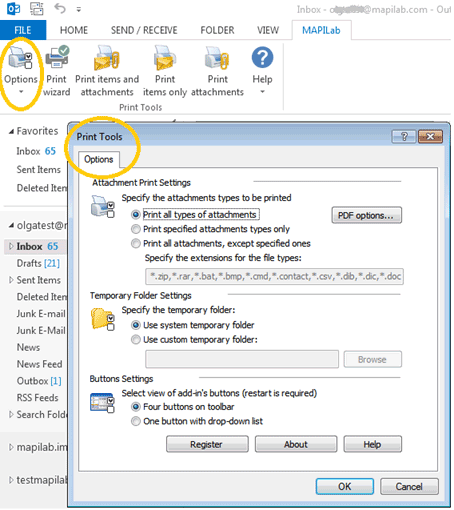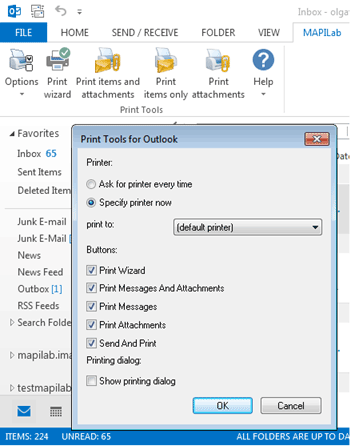 Print Wizard
This option significantly extends Outlook printing options: you are getting the dialogue window with the settings – and can either apply your settings for your previously selected range of messages, or specify the range by date directly in the settings dialogue!
For your selected range of messages – all Print Tools settings are available: your general settings for filtering by file type and selected printer will be applied to printed attachments, and if you enable the setting "Ask for printer every time" in the Advanced Settings of Print Tools, printer selection/setup will be also offered for your messages in the next dialogue window: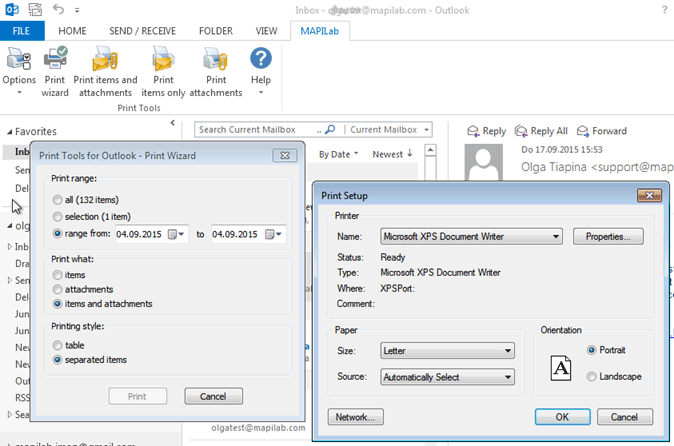 Using Outlook Search Folders, you can filter your messages as well – e.g. by subject, or sender, or key words in the message body. Once you have got the list of specific messages – you may need to print them all, and attachments as well.
Our Print Tools for Outlook add-in will help you here too!