How to make the most of your email client? Spend seven minutes reading this article – and save hours of your working time in the future. Find out about useful Outlook features that sometimes escape even experienced users' attention and learn how popular add-ins can extend its impressive functionality further.
Reply to messages fast with auto-insert templates
Dying under a barrage of queries and questions that require similar replies? Use the AutoText feature in Outlook to save standard fragments of text – for instance, answers to the most frequent questions – and paste them into your messages with a single click. Naturally, you can also use AutoText for standard correspondence phrases like "Thank you for your interest in" and "We look forward to".
The feature can be accessed through Quick Parts in the Text group under Insert tab. Selecting the fragment you would like to save for later use, click on Save Selection to Quick Part Gallery. In the Gallery, you can browse through your ready-made answers and phrases to edit them.

What is more, you can take your standard answers to a whole new level using Quick Templates for Outlook by MAPILab. Not only does it offer hotkey combinations for each template, but you can also edit your standard texts in Microsoft Word, adding graphics, tables and formatting. Besides, the add-in can take care of attachments that go with templates. Need to enclose an up-to-date price list to your standard reply? Piece of cake! Quick Templates can attach the latest version of the file, even if you edit it after the template was created. Importantly, the add-in enables you to run a shared template database with your colleagues, enhancing consistency across your team.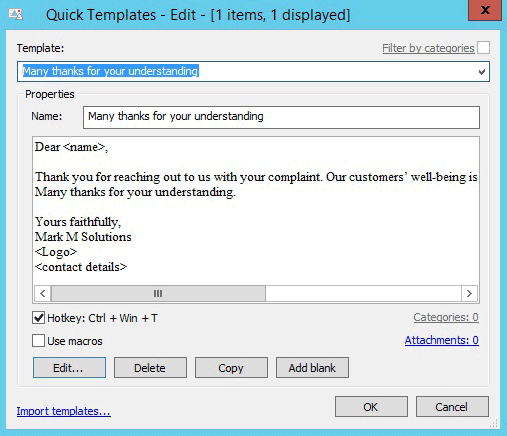 Sign your emails like a pro
Do you want to be truly immaculate in your business correspondence? Advanced language is good (and even better if used correctly), but at the end of the day, the recipient's impression is incomplete without a fitting signature. Surprisingly, no signature is often the best signature – but not always. Sometimes, your name will do. Sometimes, you need to include your job title and contact details. Sometimes, the signature features your company's specialization, logo, and motto.
"How do I juggle a variety of signatures in Microsoft Outlook?" Do you still have that DOCX file with signature templates that you copy and paste in your letters? Well, it is time for an upgrade. In Outlook, go to File > Options> Mail > Signatures. In the Signatures and Stationery window, you can create and format your signatures for every account, adding links and graphic objects. To use one of the signatures in your message, select it from the Signature dropdown of the Message tab.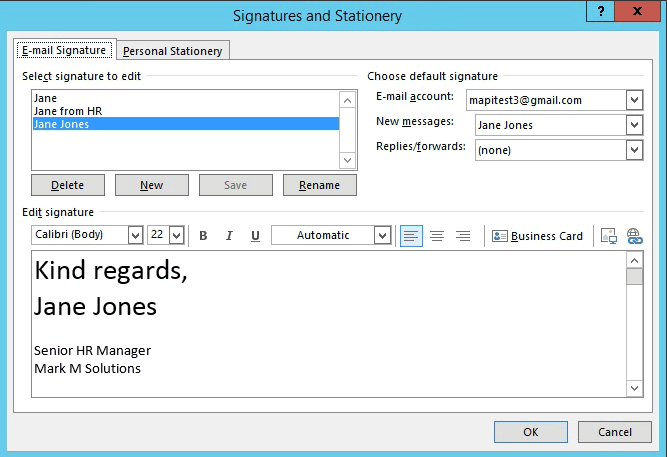 Never forget to attach files
Reminding the sender that he or she forgot to enclose the promised file ("Please find X attached" with no X in sight) is an actual business communication skill. Save your recipients the trouble of acquiring it and make sure you always attach the file you mentioned in the text or subject of your email. To that end, Outlook has a built-in feature called Forgotten Attachment Reminder, which alarms you if you mention "attach" or "attachment" in the body of the letter but attempt to send it without any files.
Shall we try it? In Outlook Options, go to Mail, scroll down to Send Messages, and put a flag next to "Warn me when I send a message that may be missing an attachment."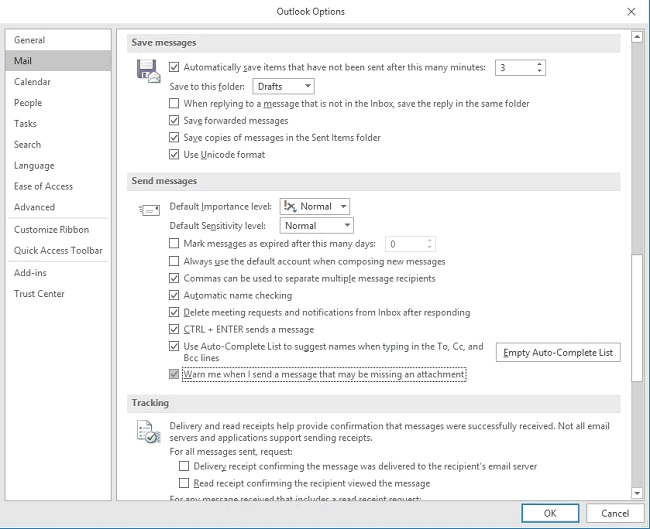 However, some users find that the reminder does not always work properly with their style of communication or in their language. As an alternative, you can use a more advanced tool – Attachments Forget for Outlook by MAPILab, a component of MAPILab Toolbox add-in. Most importantly, the add-in enables you to customize the list of words that trigger the alarm, including phrases and words that you actually use ¬– not the ones Microsoft thinks you do. Alternatively, you can turn on the alarm for all outgoing messages, just in case.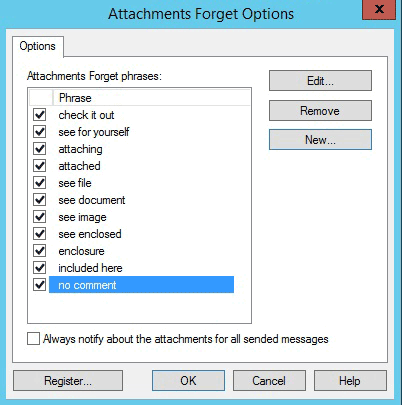 Remember to follow up on important messages
Certain requests, offers, or ideas could have made a much bigger impact if their authors had remembered to follow up on them with a call or one more message. In Outlook 2016, you can flag your message for follow-up after sending. This feature sets up a reminder for you or for the recipient for a certain date. If the recipient is using Outlook as well, the reminder for a specific action will be added to their to-do list.
If you are a big fan of follow-ups and set up dozens of reminders every day, you might want to look further than the built-in feature. For custom follow-up options, check out Email Follow-Up for Outlook, an add-in by MAPILab. This tool offers a flexible approach to follow-ups: instead of focusing on the sender's address, it can check incoming correspondence against a set of criteria, removing the reminder if you receive a message with the indicated topic or from the indicated company.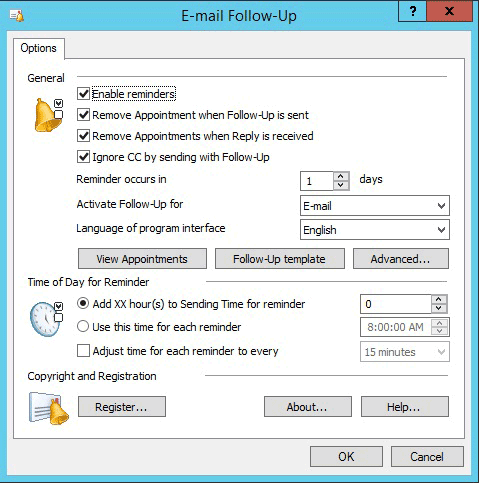 Use advanced printing features
Did you know you can print multiple messages in Outlook by selecting them with Ctrl or Shift? You can also print attached files in the same batch by right-clicking on the messages and selecting the option in the dropdown menu. A life-saver at the end of the financial year, right?
However, the built-in printing feature cannot print attachments without messages, and you still have to select all the items manually. By contrast, Print Tools for Outlook by MAPILab makes printing from Outlook much easier with wide customization options: you can have it print attachments of a specific file type or pick a a period and print all the messages and/or attachments that came through on these dates.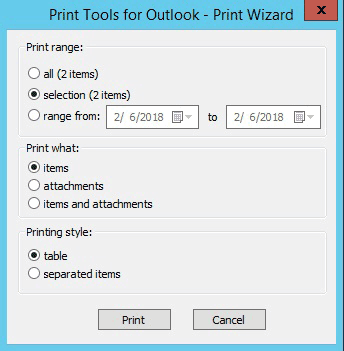 ZIP it!
Once again we are on the topic of attachments – and here is another tip. If you send out a lot of attachments, you can boost the performance of your Outlook by compressing the files you send into ZIP-archives. Why is it a good idea? First and foremost, your attachments will not be blocked by the recipient's spam filter because of their potentially dangerous file type. Second, smaller attachments decrease the size of your mailbox, lower your traffic consumption, and enable you to send items faster. And finally, compressed files can be protected by a password, which is a must for sensitive documents.
Naturally, the compression has to be done automatically. A MAPILab tool called Attachments Processor for Outlook is a multifaceted extension that can help you organize work with attached files according to your needs. To set up archiving for outgoing attachments, go to the Archiving tab in the add-in window and click on Sending Options. You can disable compression for files of certain file types and items smaller than 10 MB, for instance.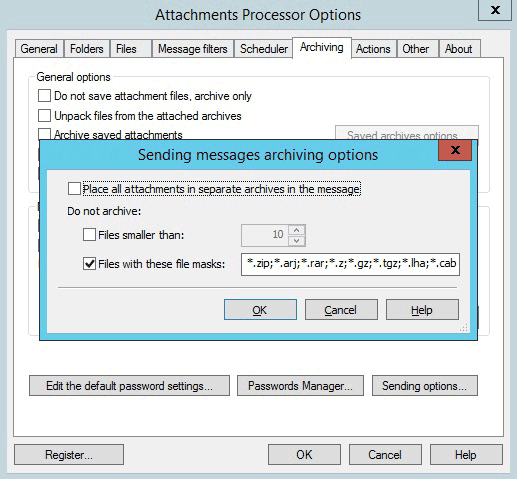 Make sure you always use the right Outlook account when replying to messages
Switching between multiple Outlook accounts can be tricky – especially if you have to manually change the address you want to use for this recipient in the From field. As a result, important messages could be blocked by your addressee's filters, end up in the wrong conversations, or simply go unnoticed.
Unfortunately, Outlook does not have any built-in feature to prevent such failures. However, if you enhance its functionality with the help of an external toolkit, you may find many pleasant surprises. Thus, MAPILab Toolbox for Outlook includes Message AutoFill, a component that automatically selects the right account to send your reply from, depending on the Outlook folder you are browsing or the keywords in the message subject.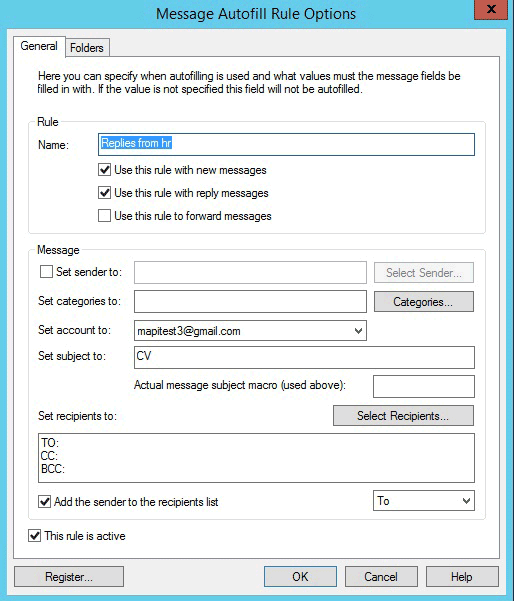 We hope you have found out today's selection of tips useful. Stay tuned to learn more about Outlook's capabilities and opportunities of their enhancement with our tools!